Antivirus & Firewall Software Advice
Welcome to my little blog, I hope to bring my experience to inform & educate on PC security.
After being involved in the IT industry for over 17 years I have seen the birth of the virus, first as a programming challenge for teenagers in their bedrooms to where it is today as a serious business tool for the criminal.
What Can Virus & Other Types of Infection Do?
Wipe all data from your hard drive

There was a virus called 'Chernobyl' a few years ago that attacked the bios information of PC's. It's aim was to damage the hardware.

Severely slow down your machine

Steal personal data including any financial details stored

Get access to websites you visit

Log everything that you type

Take over your email and messenger accounts

Use your machine to attack other machines around the world
These are just a few of the potential dangers, some you won't even know have happened because they run in the background and show no signs to the average person that they are there.
What can I do to Protect Myself?
There are 2 things that you can't do without if you are using a PC, one is an internet firewall & the other is an antivirus & spyware program.
The firewall does just what it says. It acts as a barrier between your machine and the internet so that only programs that you allow get access to the outside world.
The antivirus program runs in the background and is constantly scanning your machine for suspicious activity.
They will also do full scans of your hard drive to check for anything that shouldn't be there according to the makers. That list gets updated constantly and the program will update from the manufactures website.
The best antivirus programs also come with spyware protection, in it's most dangerous spyware is a program that records what you are doing and sends the data to the criminal.
They then either use that data or sell it on to other criminals resulting in credit card or bank account fraud and identity theft.
Which Antivirus & Firewall Software is Best?
Below I have listed some of the best in the industry as rated by the security industry.
Symantec Norton 360 3.0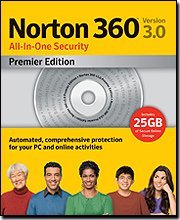 An all around protection suite. It is backed by one of the largest security companies in the world and has many strings to it's bow to give 360 degree computer protection.
Norton 360 Premier Edition 4.0 eliminates the need for any additional security, performance optimization and data backup.
Norton Identity Safe stores your sensitive, personal information such as passwords and credit card numbers in a secure vault and automatically retrieves it when needed by a legitimate website.
There is a strong anti-phishing feature that analyzes web page structure to understand whether or not an attempt is made to steal confidential information as you input it into forms.
Around the clock protection against viruses, spyware, worns, Trojan horses, rootkits and more.
AVG
AVG Internet Security 9.0
Computer Associates
Kaspersky
Buy Kaspersky: World Leaders in Security Software
Trend Micro
Mcafee
Panda
Internet Security 2011 : Standard